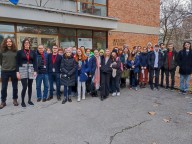 09/12/2021 - Lectures and Workshops - Lectures
The Mystery of Science
On Wednesday, December 8, 2021 we were visited by a group of students from Poland and Estonia accompanied by the host, the 15th high school from Zagreb. The Erasmus + project carries out activities aimed at promoting and developing students' knowledge in various fields, including physics.
For students and their professors, we organized a special program consisting of a welcome speech by the principal and a lecture by colleague Dr. Nikola Novosel entitled Mystery of electron coupling – a story of superconductivity.
After the lecture, the students were divided into smaller groups and followed by a tour of the laboratories presented by Dr. M. Herak, Dr. T. Ivek, Dr. N. Vujičić, A. Senkić and B. Radatović.
Our doctoral students Š. Mandić, M. Forjan, R. Radičić and V. Vulić and J. Krsnik helped organize the event.
In the end, the guests received small souvenirs made by students under the mentorship of Dr. M. Rakić and the project The Star is Born.
The whole visit was organized and coordinated by Berti Erjavec.
The visit was organized with strict application of epidemiological measures.
More about the project at the link: https://www.mioc.hr/wp/?page_id=18173